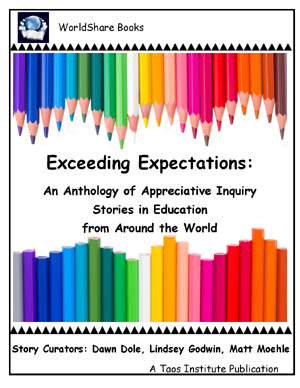 Lori Geismar Ryan, our long time colleague and friend, is joining me to co-author this blog post.  Several years ago Lori and I were invited by the Taos Institute to contribute a chapter for a book about Appreciative Inquiry in practice.  Exceeding Expectations: An Anthology of Appreciative Inquiry Stories in Education from Around the World is now published and available as a free download here.  We highly recommend that you take the time to read the beautiful learning stories in this book!
The group that published the book, The Taos Institute, is committed to the belief that social constructivist ideas have powerful and positive implications for human life and well-being.  In the early 1990's, a group of scholars and practitioners including David Cooperrider, came together to found the Taos Institute.  The first few gatherings were held in Taos but now the central office is in Ohio.
David Cooperrider, Weatherhead School of Management, Case Western Reserve University is best known as the co-creator and creative thought leader of Appreciative Inquiry (AI).  His founding work with AI is creating a positive revolution in the leadership of change; it is helping institutions all over the world discover the power of the strength-based approaches to multi-stakeholder innovation and collaborative design.  Cooperrider began as a leader in the business community.  In the early 1990's, educators became intrigued with his approach as a fitting and powerful way to empower and transform any organization or group.
The curators of the new book have this to say...We are starting to realize that the solution to the 'problems' in our schools is not to focus only on what is broken, but to discover what is working, lift up the strengths and successes, and build new visions of success from there. This book is about these stories. It aims to showcase for the first time in one collection, the stories of how AI-inspired methodologies are helping to create positive transformations in our educational communities around the globe.
Lori and I are honored to have co-authored "An Appreciative Learning Partnership" that is the final of 26 stories.  Our chapter features our work with several schools and highlights the power of appreciative approaches with stories and practical examples.  As you begin a new school year, please enjoy this free download and share it with your communities of learners.  Another collaboration is coming up soon.  Lori and I will co-lead a seminar with Ashley, Learning and Leading for the Future, in Tuscany in June 2016 as part of a series of seminars on educational leadership organized by Angela Ferrario.  We will keep you posted!