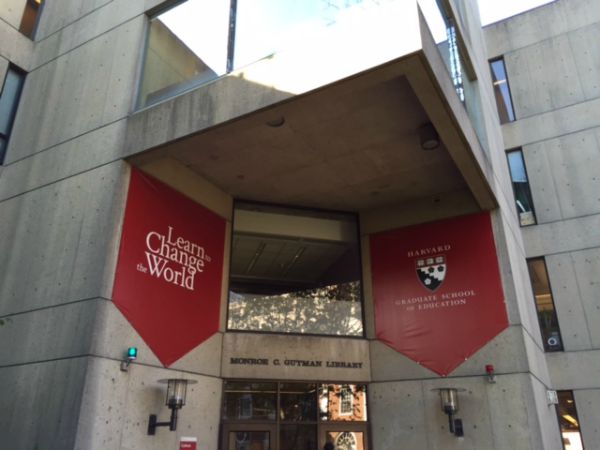 Last week I attended a weeklong institute, Future of Learning at Harvard Graduate School of Education hosted and organized by Project Zero, a research group composed of multiple, independently sponsored research projects, whose mission is to enhance and deepen learning across disciplines and cultures in a variety of settings. Like many educators, I have followed the work of Project Zero for some time, reading and being influenced by the books of Howard Gardner and others.  I became even more interested when researchers at Project Zero worked with the educators in Reggio Emilia, Italy to research and write the book Making Learning Visible.  Now, Making Learning Visible is one the research groups of Project Zero.
The week was extraordinary.  I had never taken a course at Harvard Graduate School of Education and I was so impressed.  I was one of 180 educators from 27 countries.  Half of the participants were from the United States and the other half from all over the world.   The course was organized around plenary sessions, small group workshops called courses, and a learning group of 5 that we met with every day with specific goals in mind.
I will keep writing about this experience and referencing it for some time.  For now, I want to recommend several books by researchers who spoke at our sessions last week.
The first is David Perkins.  I purchased two of his books and am reading them now.  Making Learning Whole and Future Wise.  His stance and his research supports and gives new clarity to all the work that Ashley and I are doing with schools and that is both reassuring and exciting.
The second is Mary Helen Immordino-Yang, an affective neuroscientist at the University of Southern California.  Her work is another substantive and important contribution to all that we believe about emotion and learning that we have heard Carlina Rinaldi speak about for 25 years!  Mary Helen has a book coming out in November which I pre-ordered...Emotions, Learning, and the Brain.  In the meantime, here is a link to a Ted x talk that she gave entitled Embodied Brains, Social Minds.
The last recommendation for this post is a book by Natasha Warikoo called Balancing Acts: Youth Culture in the Global City.  I took a course with Harvard Professor Warikoo called Cultural Straddlers.  Along with other learning experiences during the week, she made me see and appreciate in a whole new way the richness that cultural, racial and every kind of diversity offers us.  By the way, along those lines, if you have not seen it, be sure and watch the TED talk called The Danger of a Single Story.
We ended the week with the reflection and writing prompt, "I used the think.....but now I think..." What an excellent practice to track how we change and grow, learn and change.  I highly recommend this and other Project Zero institutes.  I feel grateful and excited to be connected to a whole new network of people and ideas.