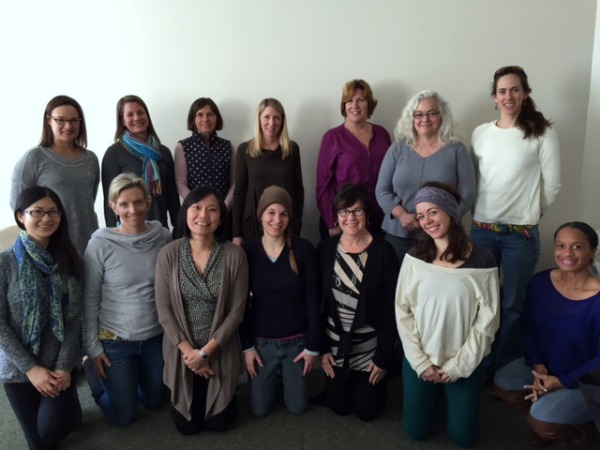 I have been co-teaching a graduate class with Yvonne Liu-Constant at Lesley University since the end of February: Environment & Materials in Reggio Emilia Inspired Teaching and Learning.  
What a great opportunity to study, think and play with a group of highly motivated and interested teachers.  Our international group adds to our collective understanding of multiple experiences and perspectives.  We have students from China, Switzerland, Canada, Spain and Bermuda as well as students from all over the Boston area, other Massachusetts locations and Vermont.
One of our field experiences was on the grounds of the deCordova Museum and at Lincoln Nursery School where we explored rich and layered learning environments inside and outside.  Along with supplementary articles and book chapters, we have been reading Designs for Living and Learning by Deb Curtis and Margie Carter as our textbook.  This new edition, full of images and well organized categories, has supported our investigations.
Students have worked with photography, drawing and graphics, paper, wire and natural materials in different contexts and with a variety of provocations. They are each now working on a final project where they will reimagine and redesign a space within a learning environment based on all that we have been learning.
Lesley University has been a leader in the field of innovative and creative education for many years. Lesley just hosted a weeklong Creativity Forum offering workshops and lectures, many free and open to the public. One of the speakers was legendary choreographer, Twyla Tharp, who has a new book out, The Creative Habit: Learn it and Use it for Life.  I ordered it and can't wait to read it.
I attended Lesley many years ago as a graduate student and was able to design my own Masters program in Child Development and Arts Education and to spend my first year studying in England.  I will always be grateful for the open and encouraging structure of the Independent Study Program that launched my career.
Now, for 23 years, Lesley has offered a Reggio Institute.  This year, colleagues from the Opal School will speak along with Lella Gandini and I am thrilled to be able to attend. It is not too late to register.  If you are able to attend, we highly recommend it!  I am honored to now be an adjunct professor at Lesley and a Visiting Scholar.  What a joy to be part of their work in the world.